Air Force Cross — Military Decorations
---
Air Force Cross Medal and Ribbon Design Images

The Air Force Cross comes with a unique
service ribbon
, which is worn on the recipient's uniform in situations where the full medal is not worn. If you have earned this decoration, you can wear the service ribbon on your
ribbon rack
.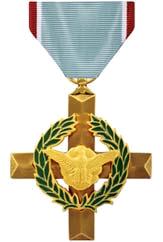 Design of the Air Force Cross
The Air Force Cross medal is comprised of an oxidised bronze cross surrounded by a laurel. The center of the cross is adorned with an American bald eagle whose wings are spread in a cloud formation. The eagle is representative of the eagle on the Air Force Seal. The reverse of the medal has been left blank for engraving.
What is the Air Force Cross Decoration?
The service ribbon is centrally comprised of a Brittany blue stripe with very narrow stripes of white and red at the edges. The ribbon is very similar to the Distinguished Service Cross, only differing by the shade of the central blue stripe. This is to demonstrate the close connection of these awards.
The United States military sorts decorations into categories called Classes and Types. The Air Force Cross medal is classified as a Personal Decoration of the type Service Cross Medal.
How Do You Earn the Air Force Cross?
The President of the United States may award an Air Force Cross with any relevant ribbons and appurtenances, to a person serving in any capacity with the Air Force who distinguishes him or herself by extraordinary heroism not justifying the award of a Medal of Honor:




While engaged in an action against an enemy of the United States.


While engaged in military operations involving conflict with an opposing foreign force.


While serving with friendly foreign forces engaged in an armed conflict against an opposing armed force in which the United States is not a belligerent party.


Displaying the Air Force Cross
The Order of Precedence of the Air Force Cross is 4, and this precedence is used when placing the associated service ribbon on your uniform ribbon rack. You can see a full list of decorations in the order of precedence on the Decorations homepage.
Additional awards of the Navy Cross are denoted by gold or silver ?5/16 inch stars affixed to the suspension and service ribbon of the medal. A gold star would be issued for each of the second through fifth awards, to be replaced by a silver star which would indicate a sixth award. To date no one has received more than five awards.
Air Force Cross Associated Branches
Air Force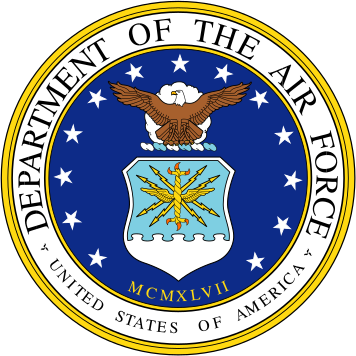 Air Force Cross Associated Branches
Air Force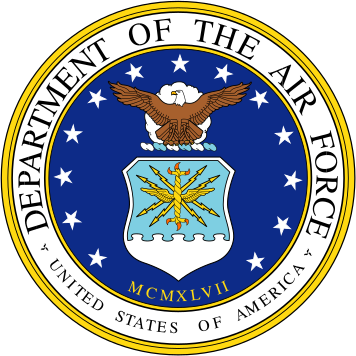 Air Force Cross and the Stolen Valor Act
The Stolen Valor Act of 2013 is a federal law that makes it illegal for any person to falsely claim to be the recipient of certain military awards, "with the intention of obtaining money, property, or other tangible benefit by convincing another that he or she received the award".This decoration is apart of the stolen valor