Service Cross Medal Decoration Type Information
---
Service Cross Medal Decoration Type Description
Service cross medals are of a wide variety but they all represent awards for actions that were of extreme gallantry and risk of life in actual combat against an enemy armed force. All branches of the U.S. Armed Forces have their own version of the service cross and of different levels.
Service Cross Medal Associated Decorations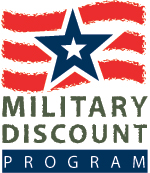 In addition to basic pay and allowances, active-duty members, veterans, and even their families are eligible for hundreds of discounts and additional benefits offered by organizations and private companies like JetBlue

, United Airlines

, Verizon

, and hundreds more.
Learn more about Military Discounts