United States Army » Rank Structure & Insignia

Army Ranks • Army Pay • Enlisted Ranks • Enlisted Pay • Officer Ranks • Officer Pay • MOS Job • Army Medal List
---
United States Army Ranks (Ordered By Seniority)
United States Army Ranks In Order
This table of the United States Army ranks from lowest to highest shows the Army's rank structure from lowest to highest including rank insignia, abbreviation, and rank classification.
The United States Army has twenty nine grades of enlisted soldiers and officers, with most soldiers enlisting at the entry-level rank of Private (PVT, paygrade E-1). The highest rank achievable in the Army is General of the Army.
Click any rank for detailed rank information including duties and responsibilities, promotion information, salary, and more.
Structure of the Army
Infantry units are the primary forces that fight face-to-face with the enemy, with Ranger, Airborne, and other Special Forces units proving as some of the most effective combat units in history. "Cavalry" once referred to troops on horseback, but now is interchangeable with "Armor" (tanks). Field Artillery has always been cannons and other large guns—technology has evolved, but heritage has stayed largely the same. The Army prides itself on being adaptable to all types of conflicts, large and small, conventional and irregular. They typically have far longer deployments than anyone else in the military. No matter their occupational specialty, all Soldiers are capable of facing the enemy in combat, are proud of their individual and team strength, and are proud of the expertise they earn over the course of their career.
History of the Army
The Army is the oldest and most senior among the branches. The Army's heritage is traced back to the Revolutionary War, when each State of the Union had its own Army, lended to the command of General George Washington. Almost 250 years have passed, but the organizational structure and naming is largely the same. The Army is still divided into Divisions, Brigades, Regiments, Battalions, Companies, and Platoons.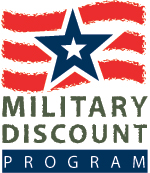 In addition to basic pay and allowances, active-duty soldiers, veterans, and even their families are eligible for hundreds of discounts and additional benefits offered by organizations and private companies like JetBlue

, United Airlines

, Verizon

, and hundreds more.
Learn more about Military Discounts