E-2 PV2

(Previous)

Private Second Class

Army Private First Class

E-3 Enlisted Soldier, U.S. Army
Army Ranks » Private First Class Rank • PFC Pay • PFC Rank History
E-3 Private First Class - Enlisted Soldier - U.S. Army Ranks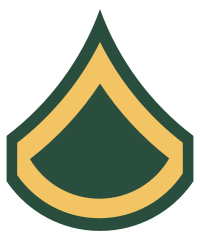 Private First Class
Army Military Ranks
---
Class
Enlisted Soldier
Abbr.
PFC
Title
Private (last name)
Paygrade
E-3 (DoD Paygrade)
OR-3 (NATO Code)
Basic Pay
$2,161/mo
Private First Class (PFC) is the third lowest Army rank, directly above Private (PV2). Privates will be automatically promoted to the rank of PFC after one year of service, or possibly earlier at the discretion of their commanding officer. Soldiers entering Basic Training with prior military training, such as JROTC, an Associate's Degree, or the rank of Eagle Scout in the Boy Scouts are entitled to an automatic promotion to Private First Class on enlistment. The primary role of a PFC is to carry out the orders issued by their commanding officers. Upon attaining the rank of PFC, most soldiers will eventually advance to either the the rank of Specialist or Corporal.
Private First Class is the 3rd rank in the United States Army , ranking above Private Second Class and directly below Specialist. A private first class is an Enlisted Soldier at DoD paygrade E-3, with a starting monthly pay of $2,161.
How do you become a Private First Class?
A Private First Class is most often promoted from Private Second Class (PV2), although promotion from lower paygrades may occur with sufficient display of leadership and experience.
The rank of PFC is attained by all Privates Second Class after a year in service or earlier at the request of superiors as a reward for sustained good performance. Privates attaining this third level of this class are assigned even greater responsibility at the individual level, such as being assigned as a machine gunner or other more complicated weapon systems, and expected to master it and continue to execute orders to the best of their ability.
What is the proper way to address a Private First Class?
The correct way to address a Private First Class named Mr. Weber is "Private Weber", or written as PFC Weber. In formal situations, a Private First Class should always be addressed by their full rank.
How much does a Private First Class earn?
Basic pay for an entry-level Private First Class with 2 or less years of experience is $2,160.60 per month.
A Private First Class receives an automatic raise to their basic pay every one to two years. Basic pay is only a small percentage of a Private First Class' final compensation package.
In addition to a monthly basic pay salary, a Army Private First Class may be eligible for multiple types of allowances and bonus pay including hazard pay, personal money allowance, retirement benefits, clothing allowance, and more.
For full details on the Army's Private First Class compensation and retirement plan, visit the 2023 Army Private First Class Pay Chart. A full table of the Army's current paygrades are available at the Army Pay Chart.
Military Occupational Specialties for Army's E-3 Private First Class
Infantryman
Active/Reserve:Active Duty
Officer/Enlisted:Enlisted
Restrictions:None
To learn more about Military Occupational Specialties, see our complete list of MOS job titles.
Equivalent Ranks to the Army's E-3 Private First Class
To learn more about the Army's rank structure, see our complete list of Army ranks.
The Government civilian-employee equivalent of a Private First Class is paid under the General Schedule payscale. For more details, see this Army rank to GS grade conversion table

.
To see a list of military medals and decorations that can be earned by servicemembers in the Army and other branches of the military, see our list of military decorations and medals.
---