Meritorious Unit Commendation Decoration Type Information
---
Meritorious Unit Commendation Decoration Type Description
A Meritorious Unit Commendation is much like the Presidential Unit Citation but is issued by the conveyning authority like a base commander or leader of a post. It can be issued for multiple reasons from assisting in a national disaster to the unit distinguishing itself in official inspections.
Meritorious Unit Commendation Associated Decorations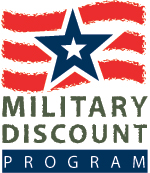 In addition to basic pay and allowances, active-duty members, veterans, and even their families are eligible for hundreds of discounts and additional benefits offered by organizations and private companies like JetBlue

, United Airlines

, Verizon

, and hundreds more.
Learn more about Military Discounts