Airman's Medal — Military Decorations
---
Airman's Medal Medal and Ribbon Design Images

The Airman's Medal comes with a unique
service ribbon
, which is worn on the recipient's uniform in situations where the full medal is not worn. If you have earned this decoration, you can wear the service ribbon on your
ribbon rack
.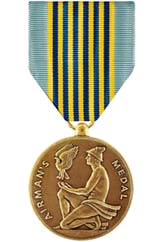 Design of the Airman's Medal
This medal was designed by Thomas Hudson Jones of the Institute of Heraldry. It is a circular medal. On the front is the figure of the Greek god Hermes, son of Zeus. He is resting on one knee after releasing an American bald eagle who is flying away. The rim of the medal is inscribed with the words "Airman's Medal." The reverse of the medal is marked by a raised outer edge bearing the inscription: "For Valor" above a space for the recipient's name surrounded by a laurel wreath.

The Airman's Medal is unique in that its shape does not follow the octagonal shape of its counterparts, the Soldier's Medal, Navy and Marine Corps Medal and the Coast Guard Medal. The design was originally intended to be used as the The Air Force Distinguished Service Medal. Heretofore, however, military decorations are designed with a distinctive shape, so that they would not be confused at a distance with service or campaign medals, which are always circular in shape.
What is the Airman's Medal Decoration?
The ribbon is based on that of the Soldier's Medal but using alternating thin stripes of yellow and ultramarine, (seven and six, respectively) bordered at the edges with wide stripes of brittany blue.
The United States military sorts decorations into categories called Classes and Types. The Airman's Medal medal is classified as a Personal Decoration of the type Non-Combat Heroism Medal.
How Do You Earn the Airman's Medal?
It is awarded to any member of the US Air Force of other armed forces of the United States or of a friendly nation who, while serving alongside the United States Air Force, has distinguished himself or herself by a heroic act, usually at the voluntary risk of his or her life. The action must not have occurred during combat. The saving of a life or the success of the voluntary heroic act is not essential—however, the action must demonstrate heroism and regard for others above oneself. It is not awardable for actions considered to be part of normal duty—one must go above and beyond expectations of bravery.
Displaying the Airman's Medal
The Order of Precedence of the Airman's Medal is 18, and this precedence is used when placing the associated service ribbon on your uniform ribbon rack. You can see a full list of decorations in the order of precedence on the Decorations homepage.
It is considered of higher precedence than the Bronze Star, however, it is after the Distinguished Flying Cross. Additional awards of the medal are denoted by oak leaf clusters.
Airman's Medal Associated Branches
Air Force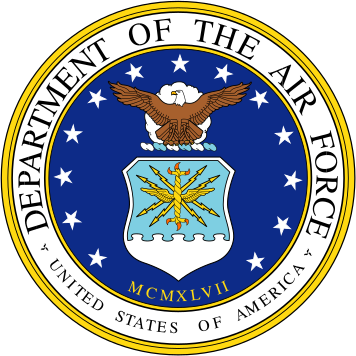 Airman's Medal Associated Branches
Air Force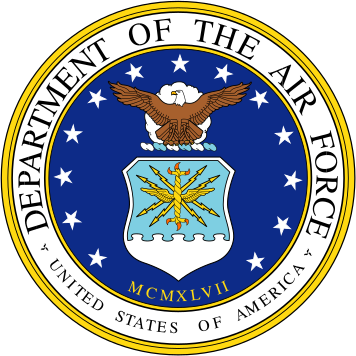 Airman's Medal and the Stolen Valor Act
The Stolen Valor Act of 2013 is a federal law that makes it illegal for any person to falsely claim to be the recipient of certain military awards, "with the intention of obtaining money, property, or other tangible benefit by convincing another that he or she received the award".This decoration is covered by the Stolen Valor act. Fraudulently claiming to have received a Airman's Medal can result in punishment including a fine, imprisonment for not more than one year, or both