Aerial Achievement Medal — Military Decorations
---
Aerial Achievement Medal Medal and Ribbon Design Images

The Aerial Achievement Medal comes with a unique
service ribbon
, which is worn on the recipient's uniform in situations where the full medal is not worn. If you have earned this decoration, you can wear the service ribbon on your
ribbon rack
.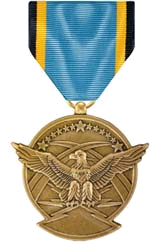 Design of the Aerial Achievement Medal
The Aerial Achievement Medal service ribbon bears a strikingly similar resemblance to the Commonwealth Air Crew Europe Star ribbon bar awarded to personnel of the Commonwealth air crew during 1939 to 1945 who participated in aerial combat missions over occupied Europe prior to June 6, 1944 (I.e., 'D Day'). It is constructed with bronze. It is circular in shape with an eagle on the obverse bearing outstretched wings extending beyond the main disc. Above the eagle lay thirteen stars and behind the eagle are two inserting arches. The eagle itself is holding a cluster of 6 lightening bolts.
What is the Aerial Achievement Medal Decoration?
The ribbon is marked by the predominant ?Bluebird? colour. There are also stripes of Flag Blue and Golden Yellow.
The United States military sorts decorations into categories called Classes and Types. The Aerial Achievement Medal medal is classified as a Personal Decoration of the type Meritorious Service Medal.
How Do You Earn the Aerial Achievement Medal?
The Aerial Achievement Medal is an award for air crew members who have demonstrated meritorious achievement during flight which would not otherwise merit the Air Medal. The decoration is awarded in the name of or by the Secretary of the Air Force and is presented to service members and civilians who, while serving alongside the U.S. Air Force, distinguish themselves by sustained distinction above and beyond the call for normal duty during aerial flight.
Displaying the Aerial Achievement Medal
The Order of Precedence of the Aerial Achievement Medal is 25, and this precedence is used when placing the associated service ribbon on your uniform ribbon rack. You can see a full list of decorations in the order of precedence on the Decorations homepage.
The Aerial Achievement Medal is placed after the Air Medal and before the Joint Service Commendation Medal. Minimum requirements for an Aerial Achievement Medal are 20 flights of at least 2 hours with one flight per theater per day. For the basic Aerial Achievement medal, 14 flights may be used. However, if this is the case then 26 flights must be used for the first Oak Leaf Cluster.
Aerial Achievement Medal Associated Branches
Air Force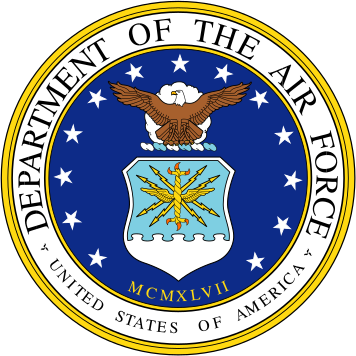 Aerial Achievement Medal Associated Branches
Air Force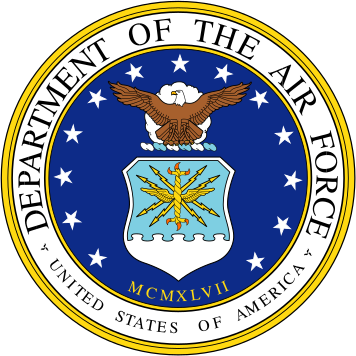 Aerial Achievement Medal and the Stolen Valor Act
The Stolen Valor Act of 2013 is a federal law that makes it illegal for any person to falsely claim to be the recipient of certain military awards, "with the intention of obtaining money, property, or other tangible benefit by convincing another that he or she received the award".This decoration is covered by the Stolen Valor act. Fraudulently claiming to have received a Aerial Achievement Medal can result in punishment including a fine, imprisonment for not more than one year, or both