Embeddable Housing Allowance Calculator
Do you want to put our free Basic Housing Allowance (BAH) Calculator on your website or blog? Our BAH Calculator can be embedded as a widget on any site, free of charge.
The BAH calculator is fully responsive and will display correctly on desktop, laptop, tablet, and mobile devices. Our recommended dimensions are 768 by 860 pixels for greatest ease-of-use on desktops and laptops.
To embed the calculator, copy the HTML code below onto your website (or provide the code to your website designer). Please be sure to include a link back to Military-Ranks.org if you use our calculator.
Thanks for embedding our calculator! If you are interested in additional embeddable calculators check out these civilian pay calculators.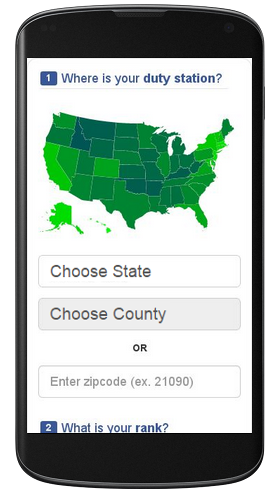 ---
Looking for pay grades and salaries for Government civilian employees? Visit FederalPay.org.