Expeditionary Medal Decoration Type Information
---
Expeditionary Medal Decoration Type Description
Expeditionary medals are a collection of medals that are given to U.S. Armed Forces members for actions that take place in a foreign theater against an enemy force. This award is usually not a combat award but is given to those who have service a stated period of time where hazard pay or hostile fire pay is included.
Expeditionary Medal Associated Decorations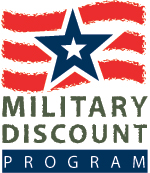 In addition to basic pay and allowances, active-duty members, veterans, and even their families are eligible for hundreds of discounts and additional benefits offered by organizations and private companies like JetBlue

, United Airlines

, Verizon

, and hundreds more.
Learn more about Military Discounts